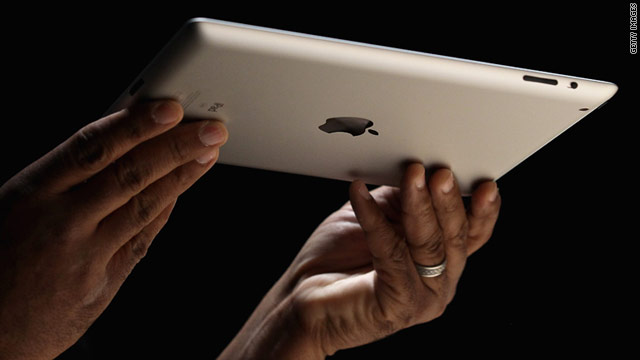 March 2: Apple announces iPad 2
I am not shy about Apple products or the company. I think Mac is a great brand, the hardware quality is second to none, although you pay for that style. iPhones and iPads have continued that tradition. I own an iPhone 4 (although I tried to get rid of it in 2010 and go to an Android phone, resulting in catastrophic #fail), and I also own an iPad. I would say that I am a power user on both, but I have settled into a routine of using only the basic features of both.
So March 2 was a special day -- the day that Mr. Jobs announced the iPad 2. Much excitement occurred and lots of press, and even excitement on wall street. So should we be excited about this new release ? Well, Apple kind of "defined" the market space for slate/tablet type computers. If you look at the hardware specs, it really is just a netbook without a keyboard. I know, I know, that might be an oversimplification, but look at the facts: Can I install Microsoft Office on it? No. Can I browse Flash based websites? No. Can I create and publish content (documents, video, graphics, web content) for business on it? No, or at least not easily. That squarely places the iPad into a category of "convenience computing" or maybe even just "entertainment." Alas, the iPad is really only getting some traction in businesses because people are innovating at the software level to overcome the OS and hardware limitations.
Anyway, back to the iPad 2 release: What are the good things? It has a
new dual core processor
and it has
two web cameras on the front and back
so you can use it for web conferencing. The speed is helpful, especially
the graphics processor which is apparently 9x faster
. There is also an
HDMI output
which is new. These features will be great for what? you guessed it... gaming and video, pretty much solidifying its focus for entertainment. It is also
thinner and lighter
(ever so slightly). Oh, and there is
a fancy new case that auto locks/unlocks the iPad 2 when you open it
. These last few things are kind of nice, but nothing special in my opinion. Seems like the cases are just Apple's way of making sure more people buy accessories from Apple direct instead of great companies like Griffin who actually make quality affordable accessories.
And the bad: What Apple hasn't gone over in painful detail is that
iPad 2 has the same screen resolution as the last iPad
. Nothing will look any better on the new iPad than it does on the old one. Many had hoped for a "retina" screen like the iPhone 4, but it didn't happen. iPad 2 has a 1024x768 screen just like the original, and it is 132 pixels per inch (ppi), where the iPhone 4 has a 960x640 screen and is 326 ppi. The iPad 2 case still
only has a mono speaker
(you can always use headphones though). RAM is another big question. The original iPad apparently has
256M of RAM
, and Apple has surprisingly left out this pretty important tech detail,
leading many to believe that the new iPad has the same amount
. If so, that means that developers will pretty quickly run into memory issues with more complex applications. And lastly, with all the innovation out there for wireless/cloud sync, many people were hoping for a way to eliminate that silly usb cable for data sync, especially for a device marketed to be self sufficient.
So, exciting or underwhelming? For me, underwhelming. A slow processor was made a little faster. Graphics for games are faster. Big deal. Will my pictures/presentations look sharper? Will I be able to easily import/put on my own content/apps ? No. So, it still isn't as useful as a $200 netbook, yet costs more than twice that of a netbook. Don't get me wrong, the iPad is a cool device, but it could be sooo much more if Apple would release some of its stranglehold on controlling users. How about an SD card slot? A real USB port ? Flash support? That would make iPad a killer device for the whole industry. Just my $0.02.